SSQ Management
The University has 511 units of accommodation under the Senior Staff Quarters (SSQ) at different locations.
While the leasing and allocation of SSQ are managed by the Finance and Enterprises Office (FEO), the Estates Office (EO) is responsible for property management, repair & maintenance and renovation works for the SSQ.
Please click HERE for further information for HKU Staff.
Locations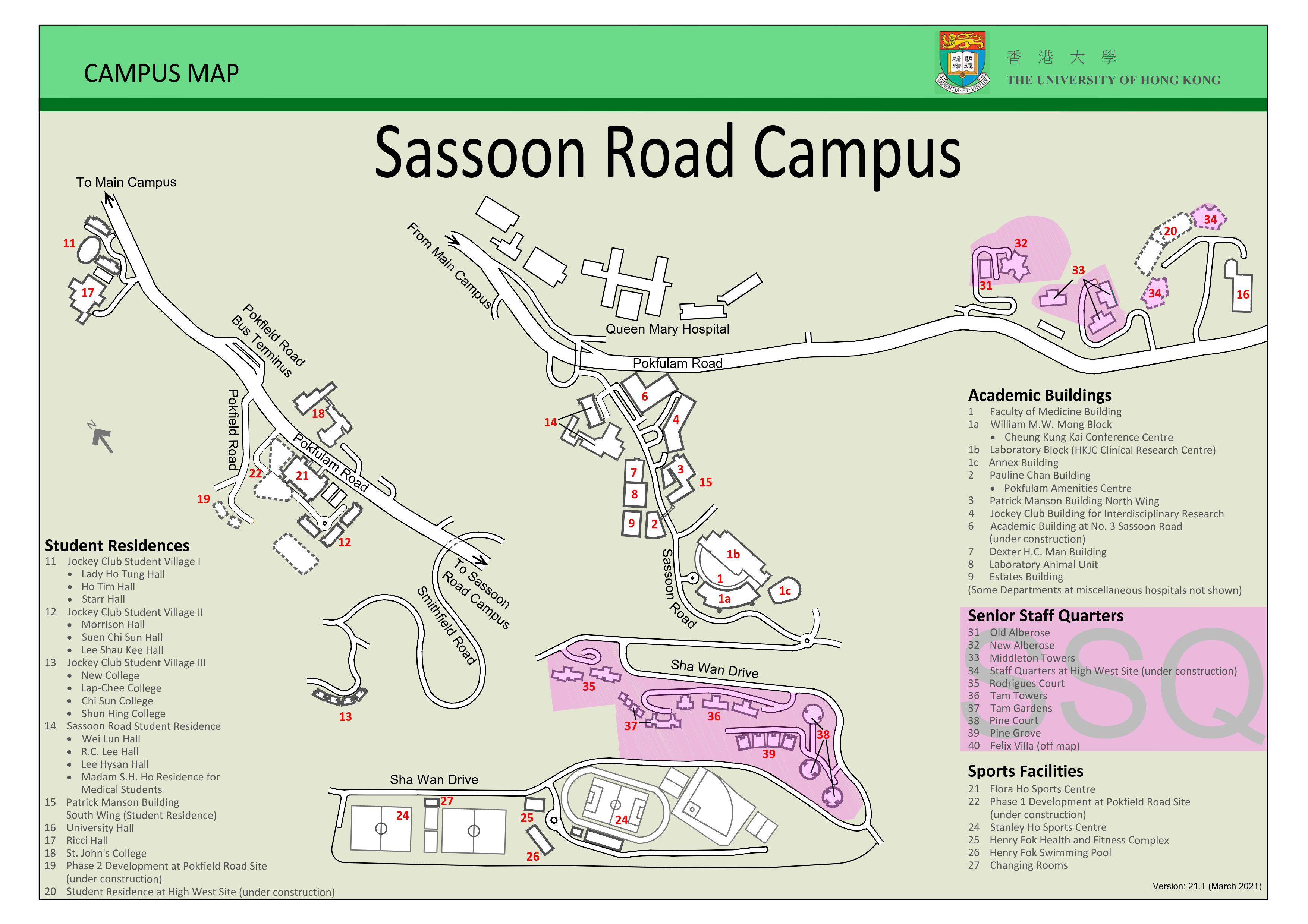 The Senior Staff Quarters are located off campus.
I. 132-142 Pokfulam Road
II. 23-25 Sha Wan Drive and 350 Victoria Road
III. 61 Mount Davis Road
Facility Management
The University has appointed Urban Property Management Ltd (Urban) to provide facility management services for the SSQ, under the supervision of Housing Management Unit (HMU) of the Estates Office.
The day-to-day services provided by Urban cover the operations of the common facilities on:
Security and carparking (including Parking Label);
Cleaning and pest control;
Landscaping to slopes and garden areas;
Building repairs and maintenance; and
Attendance on emergency cases.
Enquiry
Urban Property Management Ltd (one-stop shop service):
SSQ Allocation
A staff member who is entitled to senior staff quarters will be allocated the accommodation by the Finance and Enterprises Office (FEO) who will send a letter to the staff with details on the "Allocation of Accommodation". The Housing Management Unit of the Estates Office will arrange for the collection of keys for moving in.
Leasing of Quarters
Some vacant quarters are released by the University for leasing through property agents.
Link to leasing information:
http://www.feo.hku.hk/hkuhousing/1280_index3.html
Housing Management Unit
The Estates Office has a dedicated team under the Housing Management Unit (HMU) overseeing all Senior Staff Quarters (SSQ) matters. Apart from supervising the operations of Urban Property Management Ltd, the HMU is also responsible for:
HKU staff occupation and moving matters
Planned maintenance of buildings and facilities
Renovation works of SSQ vacant units
Contacts
Urban Property Management Ltd (one-stop shop service):
| | |
| --- | --- |
| Telephone: | (852) 2818 7920 (24-hour Customer Services Hotline) |
| Facsimile: | (852) 2819 1091 |
| E-mail: | hkussq@iurban.hk |
| Address: | G/F, Rear Entrance Lobby, Block 3, Middleton Towers, 140 Pokfulam Road |
Housing Management Unit, Estates Office
Finance and Enterprises Office (leasing matters only)