Welcome to the beta version of the "Wheelchair Friendly Routes Map" on HKU Main Estate.
The map below shows the routes on HKU Main Estate which are accessible by wheelchair users. The routes are indicated by dark green dotted lines.
This map and the table below shows the lifts and ramps for wheelchair users to access to some of the destinations on the campus and is NOT an exhaustive list of lifts and accessibility facilities on the main estate.
The Estates Office strives to provide certain accessibility facilities in each HKU building, while due to the hilly terrain, not all destinations on the Main Estate is accessible by wheelchair. Hence, if you need accessibility assistance in going to some HKU buildings within the Main Estate, please contact our 24-hour Security Control Centre at 3917 2882.
You are most welcome to send us your valuable suggestion/ opinion on the map at estates@estates.hku.hk.
Map: Wheelchair Friendly Routes on HKU Main Estate
(click the lifts/ ramps on the map to see the details)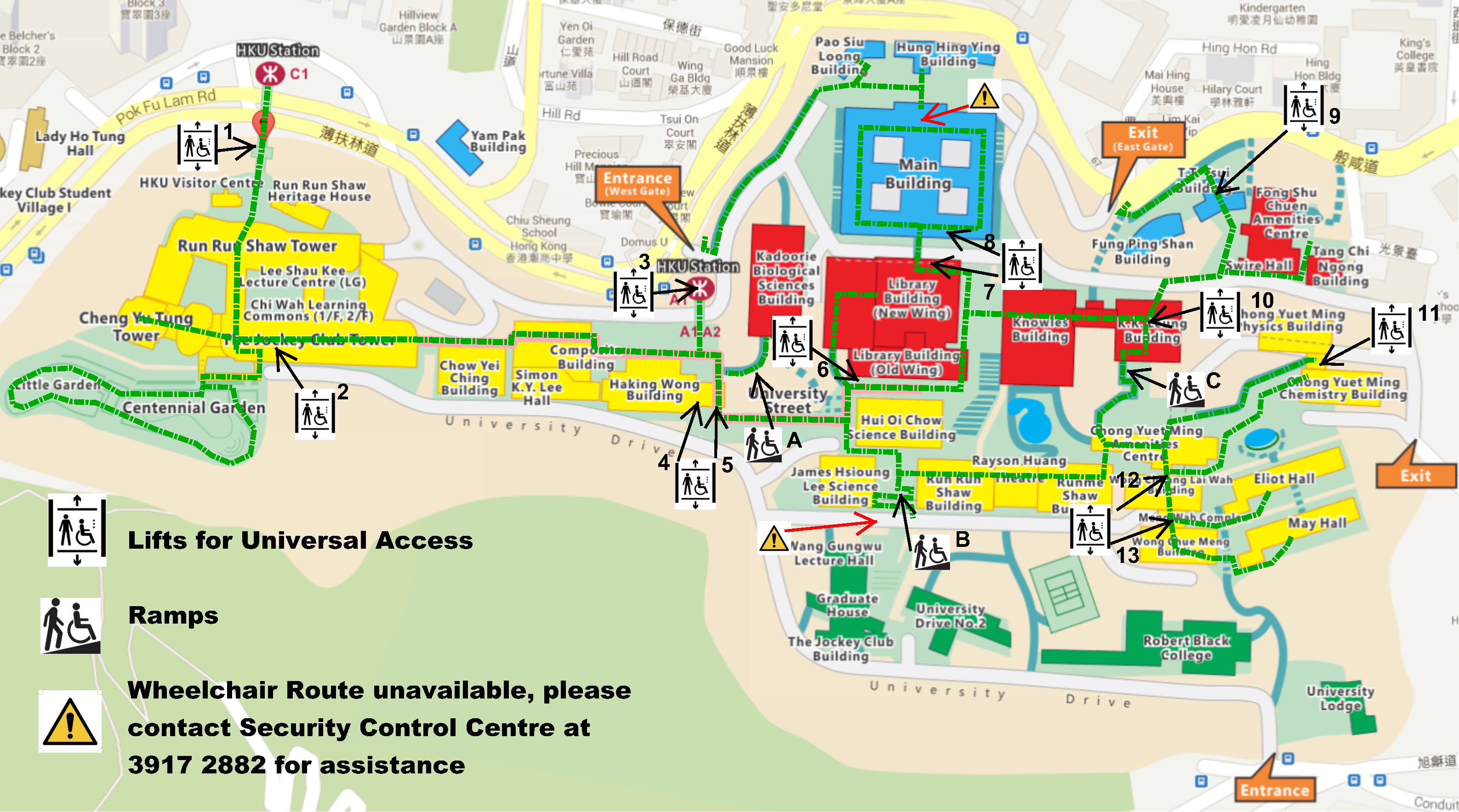 Lifts and Ramps for Wheelchair Friendly Routes
1. Lifts at the tower connecting MTR HKU Station Exit C1 and Centennial Campus
| Press | To |
| --- | --- |
| G/F | G/F Central Podium Level , Centennial Campus |
| LG1 | |
---
2. Lifts at the Jockey Club Tower, Centennial Campus
Press

To

1/F

G/F

LG/F

Lower University Street
Lee Shau Kee Lecture Centre/ Grand Hall
---
3. Lifts at the tower of MTR HKU Station Exit A1/A2 (MTR Area)
| Press | To |
| --- | --- |
| (Exit A1) FB | Upper University Street (5/F Haking Wong Building) |
| (Exit A1) G | |
| (Exit A1 & A2) C | |
---
4. Lifts at Haking Wong Building – close to Union Restaurant
Press

To

5/F

Upper University Street (5/F Haking Wong Building)

4/F

Lower University Street (4/F Haking Wong Building)

G/F

Kadoorie Biological Sciences Building (via ramp at G/F - Ramp A)
Pokfulam Road (via lift near MTR Lift Tower)
---
5. Lifts at Haking Wong Building – close to Hui Oi Chow Building
Press

To

5/F

Upper University Street (5/F Haking Wong Building)

4/F

Lower University Street
Corridor to Hui Oi Chow Building

G/F

Kadoorie Biological Sciences Building (via ramp at G/F - Ramp A)
Pokfulam Road (via lift near MTR Lift Tower)
---
6. Lift between Library Building Old Wing and Hui Oi Chow Science Building
Press

To

2/F

Upper University Street (5/F Haking Wong Building)
2/F Entrance of Main Library

1/F

Lower University Street (4/F Haking Wong Building) (via corridor to Hui Oi Chow Science Building)

G/F

G/F Entrance of Main Library/ Sun Yat-sen Place
Main Building (from 1/F to LG1 only) (via footbridge connecting Library New Wing)
Knowles Building/ KK Leung Building/ East Gate
---
7. Lift at Library Building New Wing outside Main Entrance and Hui Pun Hing Lecture Theatre
Press

To

G

G/F Entrance of Main Library/ Sun Yat-sen Place
Knowles Building/ KK Leung Building
East Gate (Via TT Tsui Building)
University Street (Upper and Lower)

LG1

Main Building (from 1/F to LG1 only) (via footbridge connecting Library New Wing)
---
8. Lift at Main Building
Press

To

LG1

Main Library/ Sun Yat-sen Place (via lift outside Hui Pun Hing Lecture Theatre)

1/F

1/F Main Building
Loke Yew Hall
---
9. Lifts at TT Tsui Building
Press

To

3/F

Swire Building
Tang Chi Ngong Building
KK Leung Building
Knowles Building (via G/F KK Leung Building)

1/F

Fung Ping Shan Building (leave the building via TT Tsui Building)
(via accessible lift on the footbridge between TT Tsui Building and Fung Ping Shan Building)

Accessible Lift on the footbridge

2

Fung Ping Shan Building

B

1/F TT Tsui Building

1

Fung Ping Shan Building

G/F

G/F Fung Ping Shan Building
---
10. Lifts at KK Leung Building
Press

To

G/F

Knowles Building
Main Library/ Lower University Street
Chong Yuet Ming Amenities Centre/ Shaw's Podium (via Ramp C)

LG2

Swire Building
Tang Chi Ngong Building
TT Tsui Building
Fung Ping Shan Building
---
11. Lifts at Chong Yuet Ming Physics Building
---
12. Lift at Chong Yuet Ming Amenities Centre
Press

To

5/F

Chong Yuet Ming Auditorium
G/F Meng Wah Complex

4/F

LG1 Meng Wah Complex
CYM Canteen
Chong Yuet Ming Science Buildings

2/F

G/F

KK Leung Building (via Ramp C)
---
13. Lifts at Wong Chuang Lai Wah Building (Meng Wah Complex)
Press

To

3/F

May Hall (via footbridge)

1/F

G/F

Chong Yuet Ming Science Buildings
5/F Chong Yuet Ming Amenities Centre
Shaw's Podium (via 2/F Chong Yuet Ming Amenities Centre)
KK Leung Building (via G/F Chong Yuet Ming Amenities Centre)

LG1

4/F Chong Yuet Ming Amenities Centre
CYM Canteen
Shaw's Podium (via 2/F Chong Yuet Ming Amenities Centre)
KK Leung Building (via G/F Chong Yuet Ming Amenities Centre)
---
A. Ramp between Haking Wong Building and Kadoorie Biological Sciences Building
Connecting

Kadoorie Biological Sciences Building
---
B. Ramp between James Hsioung Lee Sciences Building and Run Run Shaw Building
Connecting

James Hsioung Lee Sciences Building

Carpark for Disabled Users
---
C. Ramp between KK Leung Building and Chong Yuet Ming Amenities Centre
Connecting

G/F Chong Yuet Ming Amenities Centre
---
* Following routes are not accessible for wheelchair users, please contact our 24-hour Security Control Centre at 3917 2882 for assistance:
From Main Library to G/F of Main Building (e.g. MB G07), Pao Siu Loong Building and Hung Hing Ying Building
From James Hsioung Lee Sciences Building/ Run Run Shaw Building to Graduate House, No. 2 University Drive, Robert Black College and University Lodge
(P.S.: accessibility facilities shall be provided within the buildings)